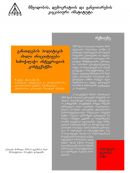 Date: May 2010
Title: New Initiatives of Education Policy in the Context of Civil Integration
Author: Shalva Tabatadze, Chairman of Board, Center for Civil Integration and Inter-Ethnic Relations (CCIIR)
Donor: The paper is published with financial support of the Evangelischer Entwicklungsdienst / EED (Germany). The opinions it contains are solely those of the author and do not reflect the position of the EED.
Languages: Georgian, English
Pages: 26 (Georgian), 13 (English)
© CIPDD

Education Policy PDF
Back..