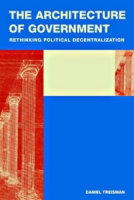 In CIPDD resource centre you have an opportunity to find a book "The Architecture of Governance: Rethinking Political Decentralization" by Daniel Treisman. In this book the authors emphasize the fact that political decentralization has been seen as a force for better government.
It is thought to bring government 'closer to the people', protect liberty, stimulate policy innovation, and alleviate ethnic tensions. Inspired by such arguments, and generously funded by the major development agencies, countries across the globe have been racing to devolve power to local governments.
This book re-examines the arguments that underlie the modern faith in decentralization. The author based on the numerous examples argue that one cannot generalize about when decentralizing will be beneficial and when harmful.
Back..