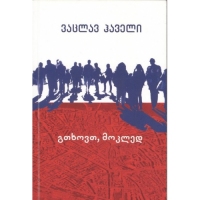 In CIPDD resource centre you have an opportunity to find a book "Briefly, Please" by Vaclav Havel. "Briefly, Please" is a combination of Havel's memoirs from his terms as the last president of Czechoslovakia (1989-1992) and the first president of the Czech Republic (1993-2003).
Author underlines the importance of the ideal democracy and civil society. The book also includes several topics from his personal life and general thoughts about the world of today. More than 700 books, magazines and articles can also be found in the resource centre on the issues related to decentralization, including: political and financial aspects of this process, public participation, examples of countries from Latin America, Asia and Africa. Resource centre is open to all interested persons.
For further questions please contact Nino Ghambashidze at nino@participate.ge or 2355154.
Resource centre is funded by a grant from the Social Transformation Programme (MATRA) of the Dutch Ministry of Foreign Affairs.
Back..