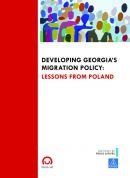 Date: 2012
Title: Report: Developing Georgia's Migration Policy: Lessons from Poland
Donor: co-financed by the PolishAid
Partner: IPA (Poland)
Languages: English, Georgian
Introduction
Piotr Kaźmierkiewicz, Institute of Public Affairs
This publication is a collection of findings and recommendations, drawn up under the "Improving mechanisms of migration control and coordination of migration policy in Georgia by reference to the Polish experience" project, financed by the Polish Ministry of Foreign Affairs, as part of the 2011 PolishAid program. The project targeted officials of key Georgian institutions working to implement the country's international commitments (in particular, the readmission and visa facilitation agreement) and to develop national policy in the field of migration. Between March and December 2011, the project helped identify areas where legal and institutional reforms are needed as well as those aspects of migration control that could benefit from Polish experience.
The assessment of the Georgian institutions' needs was carried out through a combination of an analysis done by a team comprising a Georgian and Polish expert and a series of consultations with officials and representatives of non-governmental and international organizations. Attention was paid at all stages of the project to ensuring that the Georgian officials had an opportunity to raise questions of key relevance to the execution of national reforms. Preliminary answers were provided through presentations made by institutions at project seminars, comments to expert assessments and also active participation in a study visit to Poland in September 2011. The study visit helped provide the officials with relevant experience of Polish institutions in developing capacity for effective migration control and playing an active role in elaborating directions of national migration policy.
All these activities appear to be particularly timely, addressing Georgia's current needs to raise its ability to meet current challenges in migration management. Georgia is implementing readmission and visa facilitation agreements with the EU and is engaged in a dialogue aimed at launching a process ultimately leading to visa liberalization. Since December 2009, Georgian institutions have been implementing the Action Plan on Integrated Border Management, which helps coordinate the activities of various institutions in the field of legal reforms, facilitate inter-agency cooperation and provide conditions for cross-border cooperation. Finally, questions of managing Georgian migration into the EU are being accorded an ever higher priority in national policy as demonstrated by the fact that Georgia has been pursuing cooperation with the EU within the framework of the Mobility Partnership.
This report is made up of three parts: presentation of relevant experience from Poland, a country that has trodden a path since 1989 that Georgia is currently following; an overview of the progress made by Georgian institutions so far and of outstanding needs in terms of legal and organizational reforms; and lastly a set of recommendations for the Georgian Parliament, government and the EU. Although the national chapters were developed independently, they serve a single purpose: identify key success factors as well as some of the difficulties involved in the reform process, and present the building blocks of a comprehensive national migration management system, covering such aspects as visa policy, border and residence control, access to the labor market and sanctions for violation of residence and employment regimes.
The publication is a testimony to the commitment of Poland to share its experience of moving from a country that was once perceived as a source of migratory risk to a vital link in the pan-European system of migration control. It also demonstrates the value of participation of non-governmental organizations, in particular of think tanks, in the analysis and evaluation of state activities in the field of migration policy. The report has been developed through interaction with state officials, taking into account their interests, concerns and plans, while also offering a overview of individual institutions' efforts. It is hoped that this brief, synthetic publication will usher in a broader and deeper discussion on the achievements and shortcomings of Georgian migration policy, taking into account the value of transferring international experience to help advance the reform process.
Back..