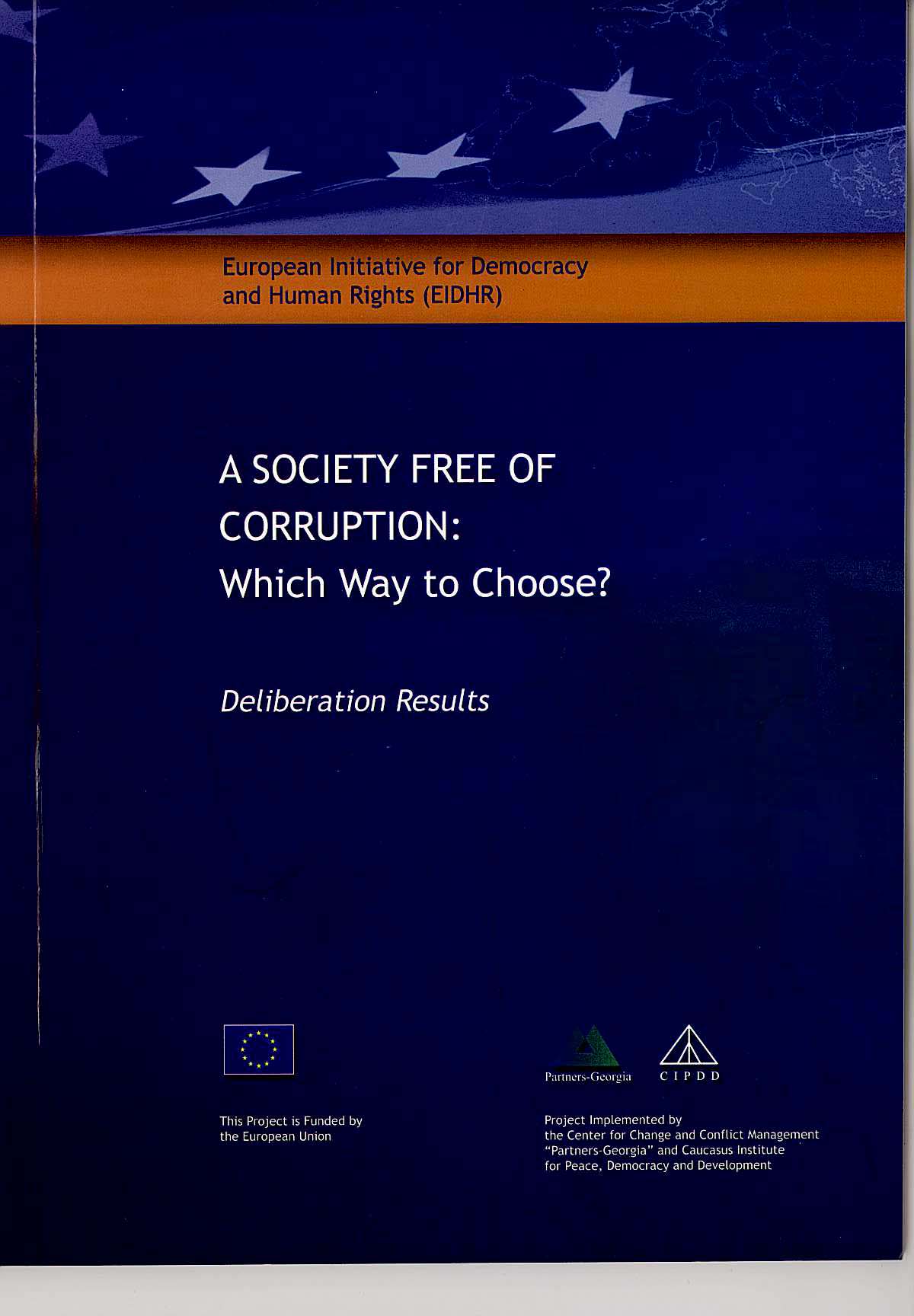 Date: 2006
Title: A society Free of Corruption: Which Way to Choose?
Author(s): David Losaberidze, Koba Kikabidze
Project and donor: joint project "Preventing and combating corruption in Georgia through the reinforcement of civil society pressure and promotion of citizens" implemented by the Center for Change and Conflict Management "Partners-Georgia" and CIPDD; the project was funded by the European Union
Languages: English, Georgian
Pages: 75 (English), 89 (Georgian)
Printed by: Women's Polygraphic Service
© Partners - Georgia
© CIPDD
Description:
Corruption has become a serious political and economic challenge in recent times, and the need for anti-corruption measures is increasingly obvious.
Each stage of the process of state-building and national development displays particular types and levels of corruption. There are therefore a variety of different ways to fight corruption. But corruption cannot be tackled successfully without political will and support from society. This is an especially painful problem in so called transition societies.
Two Georgian non-governmental organizations - the center for Change and Conflict Management "Partners - Georgia" and the Caucasus Institute for Peace, Democracy and Development - initiated a joint project with financial assistance from the European Union. The main objective of the project was to make a valuable contribution to anti-corruption measures and corruption prevention in Georgia by consolidating the efforts of the civil sector, on the one hand, and by encouraging participation of ordinary citizens in the process, on the other hand.
Within the framework of this project, so-called public deliberation methodology was tested, which is not well known in Georgia. Therefore, project's authors consider it to be a pilot study.
The publication presents a summary of the public forums undertaken, with a summarized account of these forums and an analysis of the opinions of residents of eight Georgian cities on the problem of corruption.
Back..