Community Perceptions of the Causes and Effects of the August 2008 conflict in Kvemo Kartli, Samegrelo, Samtskhe Javakheti and Shida Kartli
13.08.2012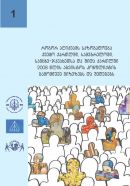 Date: June 2010
Title: Community Perceptions of the Causes and Effects of the August 2008 conflict in Kvemo Kartli, Samegrelo, Samtskhe Javakheti and Shida Kartli
Donor: The programme and this report has been funded by the EU through the joint Saferworld/Conciliation Resources project Establishing Conditions for Effective Conflict Prevention and Transformation following the August 2008 Crisis.
Languages: Georgian, English, Russian
Pages: 22 (Georgian), 22 (English), 22 (Russian)


Introduction
This report summarises the views of communities in Kvemo Kartli, Samegrelo, Samtskhe-Javakheti and Shida Kartli as to the causes of the August 2008 conflict and its impacts across the country. It first provides shared perceptions of the causes of the August 2008 conflict, grouped into political, economic, socio-cultural and security aspects, followed by shared perceptions of the effects. Perceptions of causes or effects that are specific to a particular region are indicated in separate boxes or by bold text. The findings outlined below are not meant to represent facts, but a range of views and feelings expressed by communities.

This report is one outcome of the first stage of the project Promoting broader and more informed dialogue on conflict, security and peace in Georgia. This programme, jointly implemented by the Caucasus Institute for Peace Democracy and Development (CIPDD), the Georgian Young Lawyers' Association (GYLA) and Saferworld, is designed to develop the capacity of Georgian civil society to analyse and play a constructive role in conflict and security issues. The process involves a two-way conversation between core groups of community representatives and wider society in the four target regions, with the following objectives:

1. to elicit information from community members about their perspectives on conflict issues
2. to provide more balanced and impartial information about conflict issues
3. to stimulate communities to think about these issues in new and wider ways
4. to share perspectives between community members in the different regions.

The process is not intended to provide authoritative sociological data on the attitudes of the Georgian public, but rather to promote a deep and sustained discussion among a consistent group of interlocutors, that will reveal the diversity of views and feelings, especially as expressed in different regions of the country.

The methodology for the discussion focuses on three levels: community, regional and national. In each of the four regions there are regular meetings to brief a core group of community representatives. The core group members then consult with their respective communities, based on common objectives and guidance for each round of consultations, and they then feed back the outcomes at the next regional meeting. The outcomes in each region are then compiled, before being presented and discussed with representatives of the other regional groups at periodic national meetings. The shared and different perceptions across the country are then fed back to core group members, and subsequently to the communities, in each region. The more nuanced and regionallydisaggregated perspectives of conflict and security issues developed in this process will then serve as the basis for dialogue between Georgian civil society and policy-makers at the national and international levels.
CIPDD/GYLA/Saferworld welcomes your feedback. Please contact one of the partner organizations or visit the report's blog to comment.
Back..