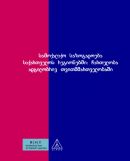 Date: 2009
Title: Civil Society in the Georgian Regions
Donor: The paper is published with financial support of the the Black Sea Trust of the German Marshall Fund. The opinions it contains are solely those of the authors and do not reflect the position of the Fund.
Languages: English PDF

© CIPDD
Back..