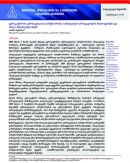 Date: February 2010
Title: The EU's Eastern Partnership: Civil society expectations and new opportunities
Author: Tamara Pataraia, CIPDD
Donor: The paper is published with financial support of the Think Tank Fund of the Open Society Institute - Budapest. The opinions it contains are solely those of the author and do not reflect the position of the OSI TTF.
Languages: Georgian, English
Pages: 12(Georgian), 8 (English)
Podcast
© CIPDD


Eastern Partnership PDF

Executive Summary
The European Union's Eastern Partnership was inaugurated in Prague on 7 May 2009. It represents a concerted effort on the part of the EU and six non-EU former Soviet Bloc nations – Armenia, Azerbaijan, Georgia, Ukraine, Moldova, and Belarus – to upgrade and expand their relationship.
The project is designed to facilitate the political and economic integration of the Eastern Partnership countries, including Georgia, with the EU with the help of various bilateral and multilateral cooperation programs. At the same time, the Eastern Partnership should not be seen as an alternative to the action plans signed by the EU and partner nations within the framework of the European Neighbourhood Policy. Instead, it aims to give new impetus to existing cooperation initiatives. At the same time, it must be mentioned that two things make the Eastern Partnership different from past and ongoing cooperation formats.
On the one hand, the scope of cooperation between the EU and each partner country is determined by the scale and progress of reforms implemented by that country. On the other hand, the EU is well aware that civil society can play a special role in the political decision-making process. It was for this reason alone that the Civil Society Forum was founded in Brussels on November 17 2009. The best, most innovative recommendations given by participants in the Civil Society Forum were presented to the foreign ministers of Eastern Partnership member states on 8 December 2009 in Brussels. According to European Commission officials, the recommendations would be useful during discussions on the thematic platforms of the Eastern Partnership.
This policy paper reviews the main objectives and development priorities of the Eastern Partnership. However, as specific cooperation programs for Eastern Partnership states have not yet been prepared and because the process is likely to take a lot of time and effort on the part of both the EU and the partner countries, this policy paper focuses on the recommendations of the Civil Society Forum presented in Brussels in December 2009. These recommendations can shed light on what civil society in the Eastern Partnership states think of the new cooperation format and what results they expect it to bring.
Back..