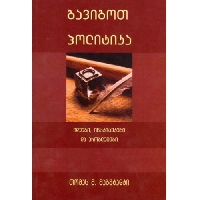 In this book author emphasize the fact that government is too important to be left in the hands of a few; and in a democracy, everyone has both the opportunity and the obligation to participate in public life. The book consists of 18 chapters.
In this book, Thomas M. Magstadt focuses on such vital concepts as democracy, dictatorship, citizenship, elections, leadership, ideologies, war, revolution, world politics, and public policy. More than 700 books, magazines and articles can also be found in the resource centre on the issues related to decentralization, including: political and financial aspects of this process, public participation, examples of countries from Latin America, Asia and Africa.
Resource centre is open to all interested persons. For further questions please contact Nino Ghambashidze at nino@participate.ge or 2355154. Resource centre is funded by a grant from the Social Transformation Programme (MATRA) of the Dutch Ministry of Foreign Affairs.
Back..