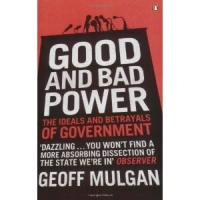 CIPDD resource centre has purchased new books. Among new ones you can find "Good and Bad Power: The Ideals and Betrayals of Government" by Geoff Mulgan. The author emphasizes the fact that in much of the world states remain oppressive, secretive and violent.
It is no surprise that so much recent political theory has been concerned with how to protect people from dangerous states. According to the author there is a growing trend of anti-politics, manifest in falling turnouts and party membership, and an assumption that politicians represent the worst venality rather than the highest ideals.
This book explains why we have arrived at this point, what can be done to change the world, and how the power of governments can be used for good.
Back..