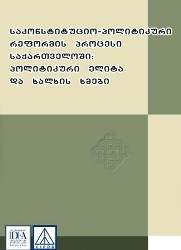 The project was aimed at enhancing the quality and widening the scope of public debate on important constitutional issues in Georgia, such as the distribution of power on the national level between the legislative and executive branches, and devolution of power from the national to regional and local levels.
Results:
• Two policy papers were produced in framework of the project, which defined clear agendas for constitutional reform within the two selected thematic areas; this agenda was based on the process of broad consultations within different parts of Georgian society.
• Two research papers were produced by CSS (Centre for Social Studies), in which described the background political development, identified public discourses on constitutional issues, and analysed public attitudes toward constitutional issues of state arrangement and its role in society
• The projects` proceedings were published in three languages: Georgian, Russian, and English, and were widely disseminated in Tbilisi and several regions of Georgia, as well as in Armenia and Azerbaijan. This final publication includes: two policy papers produced by Georgian experts, commentary papers prepared by European and SC experts, two research papers prepared by CSS, analytical papers on constitutional reform process in Armenia and Azerbaijan prepared by local experts, and reports on the International conference conducted by IDEA and CIPDD in March 2005.
Back..